On the 7th of August 2018 a Workshop was held by Birmingham Women's Education Team regarding SALAH (Namaz) with the will of Allah Subhan WaTaala and the blessing of Prophet Muhammad (peace and blessings be upon him).
Recitation and translation from the holy Quran was done by Sister Rabia Khanam MWL (President of Birmingham), Hadith read by Sister Shaheen from Hodgehill and Naat Shareef by Sister Robina.
Sister Rabia Khanam covered 5 main points about Salah;
Cleanness of body; clothes, place, place of pray.
Covering of body; hijab, full coverage of body except hands and feet.
Time; every Salah must be prayed within its time.
Qibla direction; have to face Qibla direction
Intension; from the heart and tongue for Sunnah, Farz, Naffle, and Wajib.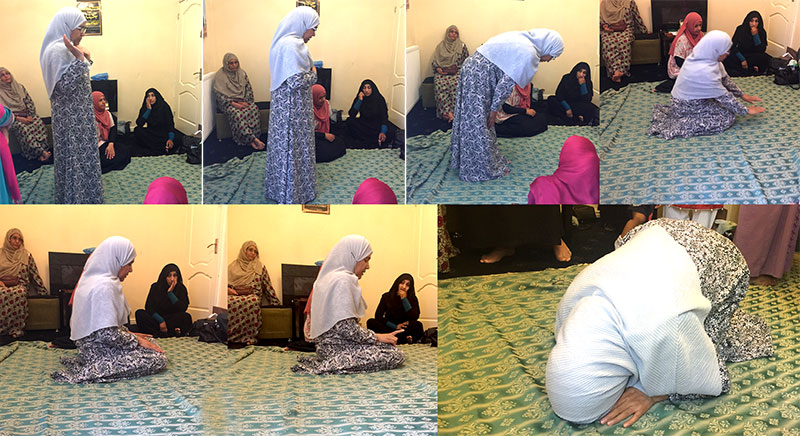 Sister Rabia spoke about the difference about Sunnah, Farz, Naffle and Wajib. She also spoke about what is permissible and what isn't in Salah. Every position in complete detail was explained; also Sajida Tilawat should be performed as soon as possible.
Sister Shazia Parveen MWL (General Secretary of Birmingham) spoke in English; We take refuge in Allah Subhan WaTaala through Salah, everything worships Allah SWT in their own way; animals, mountains, plants and creatures. It is mentioned 700 times in the holy Quran about Salah. Sister Shazia spoke about how your sins fall like leaf of an autumn tree. Salah has complete spiritual, mental and physical benefits. One must attend Salah after hearing the Azaan and intention can be made with tongue or from the heart. Sister Shazia spoke about all the positions and Farz in Salah.
Sister Aasia Hodgehill showed us practically all the positions in a Salah and this was concluded with duaa by Sister Shameem from Hodgehill.
Reported by Shaheen Akhter Minhaj Women League (Media Secretary of Alum Rock Birmingham) UK