On (Sunday) 19th January 2014, Minhaj-ul-Quran Women League (Hainault, UK) organized a magnificent and inspiring Mawlid-un-Nabi (Peace be upon him) program in order to commemorate the blessed birth of Prophet Muhammad (Peace be upon him). It was a beautiful gathering with an impressive turnout, and participants from as far as Ilford and Walthamstow participated in this program. This program was arranged by Sister Sadia and Sister Ayesha.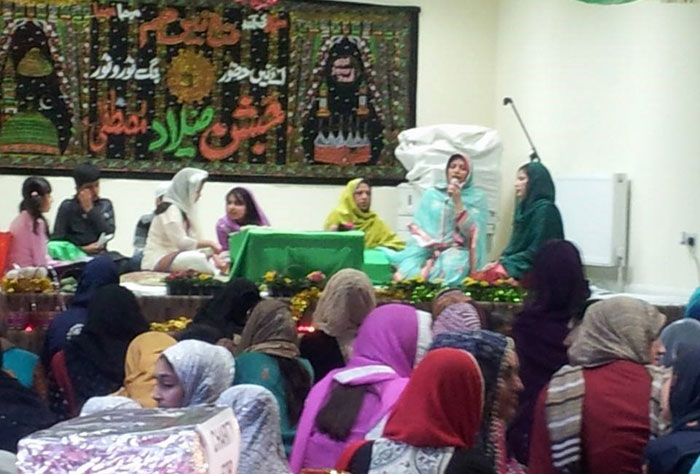 The program was presided over by Mrs Fatima Mashhadi, the President of MWL UK. The event was also attended by President MWL London, Mrs Nusrat Mahmood and the general secretary MWL London Mrs Rukhsana.The ceremony started at 1:30 pm with the recitation of Holy Quran. Following the tilawat, a small group of children recited nasheeds and some of them delivered speeches on the momentous occasion of birth anniversary of beloved Holy Prophet (SAW) with energetic style. After this, Mrs Madiha Zeeshan performed the beautiful naat with daf in her unique style. A short speech regarding the reality of Mawlid-un-Nabi (SAW) was delivered by Sister Ambreen Hussain. Free books, CDs and DVD's were handed out by Minhaj Dawah project representatives who had set up a stall there.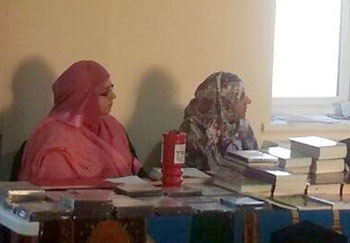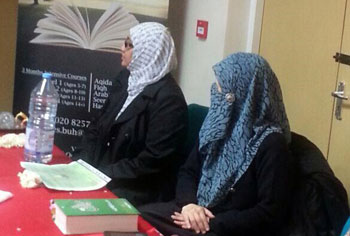 The president of MWL UK, Mrs Fatima Mash'hadi, then delivered a short speech titled 'Arrival of Holy Prophet (saw) and its need'. She started her speech with reference of Sura Baqra Aya 151-152 and explained the need and importance of the love of Prophet (SAW). At the end she communicated the motive of the arrival of Holy Prophet (SAW).At the end of program president MWL London, Mrs Nusrat Mehmood conveyed the message of Shaykh-ul-Islam, Dr Muhammad Tahir-ul-Qadri and the benefits of joining his mission. She also introduced the great scholarly work of Shaykh-ul-Islam with the reference of his three newly published books. The program ended with dhikr and dua and the guests were gifted with CDs of Shaykh-ul-Islam. Food was also served at the end of program.
Reported by: Mrs Amna Ajmal